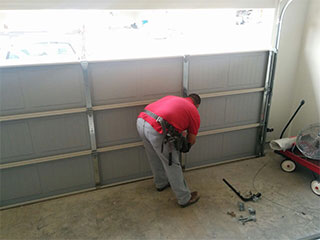 When it comes time to get a new garage door, the sheer number of options available to you can be staggering. Don't worry. There's no need for you to become an expert. That's what we're here for. Our team members are veritable fountains of knowledge when it comes to these automatic door systems, and we can help you find the perfect model for your home.
Single vs Sectional Doors
These systems can be built in a variety of ways. From roll up to up and over and everything in between, the type of door you get will determine how crowded your garage is going to be, and how much headroom and backroom is going to be required. However, there are usually two variations of each type of door. The single panel option quite literally means that the door's panel will consist of a single slab of material. This offers an increased insulation quality. The sectional option, on the other hand, allows you to mix and match, as the door will be comprised of a few separate panels. If your door were to get damaged, only the affected panels will need to be replaced, which could end up costing a lot less.
The Different Materials
The three main materials used to built garage doors are wood, steel, and aluminum. Wood offers better insulation and is considered to have more of a visual appeal. However, it requires more maintenance and can be more easily affected by weather conditions. Steel is very strong and durable and offers increased security. It is very heavy, though, and will need a more powerful opener. As for aluminum, it is very light and requires very little maintenance if any at all. Its main downside is that it gets damaged easily.
The Opener Matters
Remember this: the size and weight of your door will determine what opener you can or can't get. Obviously, heavier and larger doors will require an opener that is capable of producing sufficient horsepower output. If you already have such a device, yet you choose to get a heavy steel door, it may not be able to effectively power it, which can result in more frequent accidents or a complete breakdown.
Consult a Professional
Our experts at Garage Door Repair Deerfield can help you find the best type of door for your home. There's no reason for you to go about doing this alone. Once you've made an informed decision, we'll install the new door for you quickly and safely. Call us today to get some excellent advice.