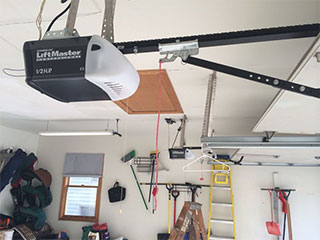 Garage doors are one of the hardest-working components you'll find in your home. A busy family can quite easily operate their garage in excess of a thousand times every year - it's no surprise then that this can cause a significant amount of wear and tear in the door's moving parts. It's essential to arrange for regular service inspections in order to prevent problems from occurring in the first place. Our expert technicians can help you to ensure that your door continues to operate safely and securely.
Why Arrange Regular Inspections?
The stress and strain of continually hauling a heavy door up and down can lead to a range of common problems. Moving parts will gradually work their way loose, joints will require lubrication, and different components can fall out of alignment. These problems in themselves are easily fixed, but if not addressed quickly they can lead to more severe problems.
When to Arrange an Inspection
It can be tough to know when maintenance is required; by the time a problem becomes obvious, it's usually too late. Instead, we recommend arranging regular service inspections to catch any potential problems before they arise. In fact, many major manufacturers also advise annual servicing, and in some cases this is even a core requirement of their warranty.
During an Inspection
Firstly, our technicians will assess the condition of your door system. By doing this, they can decide which components are in need of attention, and what work should be carried out - this ensures that your door receives the attention it needs.
Preventing Further Problems
Our experts will inspect each component of your door to identify parts in need of replacement. This allows them to highlight any potential causes for concern, enabling replacements to be arranged before the part completely fails.
Arrange a Visit Now
We strongly recommend that all homeowners arrange for maintenance to be carried out at regular intervals. Contact Garage Door Repair Deerfield and book your appointment today!
In addition, count on us for:
Liftmaster Garage Door Maintenance
Genie Garage Door Openers
Oil Tempered Torsion Springs
Bent Garage Door Track Repair