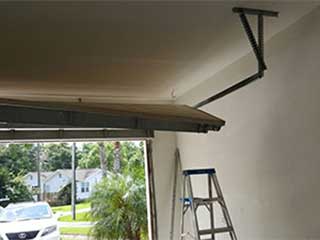 If some part of your garage door, mechanical or electrical, suddenly starts to malfunction or outright breaks apart all together, give our team a call. We can handle every type of issue you may find yourself experiencing.
Repairing Damaged Tracks
The track is what guides your door's movement and prevents it from tilting or collapsing unexpectedly. If it becomes bent at parts, or if it gets blocked by debris, it could render your door inoperable, and may result in it getting stuck. Our technicians can straighten tracks and restore them to a proper working condition. If the damage proves to be too severe, count on us to replace them on the spot.
Fixing Opener Malfunctions
Whether if it's a broken or worn out motor gear, or some electrical wire or other part of the interior circuit board that's gotten loose or fried, our professional technicians can repair the damaged component and bring your opener back into working order. This device is what allows your door to operate automatically, so an expert is required in order to make sure it is repaired correctly.
Repairing Spring Problems
The springs are in charge of supporting the weight of your overhead door and providing it with the necessary tension in order to move. If they suffer too much wear and tear, they can end up breaking unexpectedly, which can be dangerous to any person standing nearby, and will also damage other parts of your garage door as well. Trust our team to repair or replace these crucial components without compromising anyone's safety.
Always Call a Professional
You should never try to repair your garage door by yourself, as the risks involved aren't worth it. Simply contact our experts at Garage Door Repair Deerfield and we'll provide you with a quick and effective solution. Call us today.
We Also Offer:
Emergency Repair Services
New Garage Door Remotes & Clickers
Garage Door Cable & Track Repairs
Overhead & Roll Up Garage Door Services